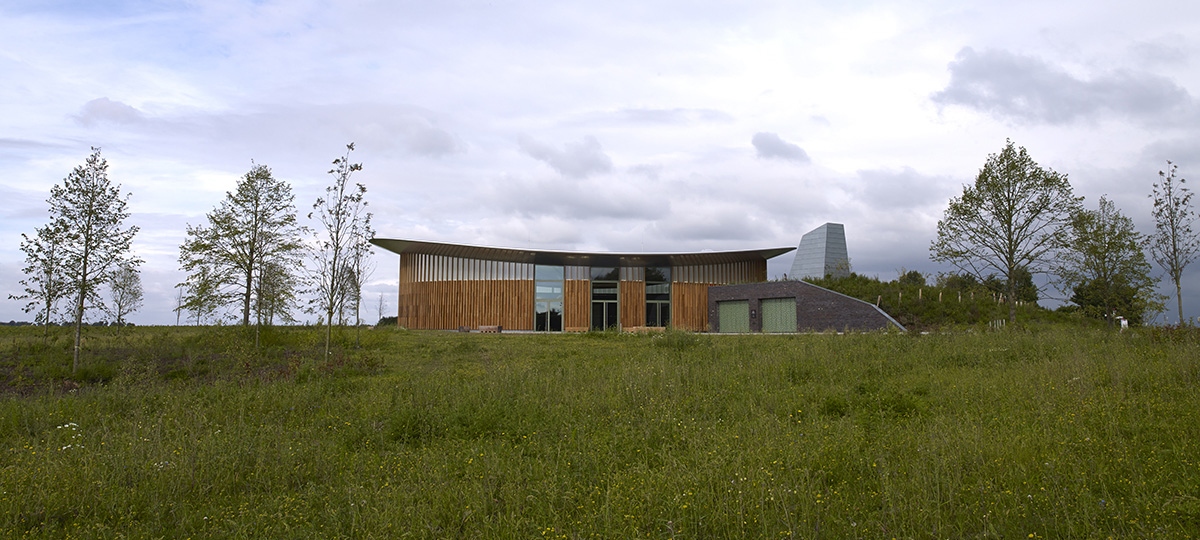 Photo: Nic Tenwiggenhorn, © VG Bild-Kunst, Bonn 2016
The Skulpturenhalle in Neuss
41472 Neuss/Holzheim
Lindenweg, Junction Berger Weg
(Near Raketenstation)
Opening hours
Fri – Sun: 11 a.m. – 5 p.m.
The Skulpturenhalle, or sculpture hall, of the Thomas Schütte Foundation on the outskirts of Neuss is the biggest and most ambitious building so far to be based on a model by Thomas Schütte. Models for imaginary buildings have been part of Schütte's output since his early career, but had, until recently, remained primarily fictional and poetic reflections of the artist's life and work. >
The Skulpturenhalle is situated between the grounds of the Museumsinsel Hombroich, the Kirkeby-Feld exhibition area on the grounds of the former military rocket station, and the Langen Foundation – all of them created through private initiative, which makes the Skulpturenhalle a perfect fit here. Its most distinctive external features are the wooden slatting on the concrete outer wall, lending the elongated surface its delicately ribbed look, and the convex form of the overhanging roof, visible from afar. The adjacent technical services building that houses the cash desk, library and curatorial office has a striking chimney-like structure forming a light-shaft for the office. The Skulpturenhalle provides a haven for contemporary art production on two levels: an entrance-level exhibition space for sculpture and a basement-level storage space for the artist and his foundation. At the centre of the Skulpturenhalle is an intimate exhibition space whose design and materials distinctly mark it as a signature work by Thomas Schütte. The building project was undertaken under the supervision of Lars Klatte and Heinrich Heinemann from the RKW firm of architects.
Dieter Schwarz